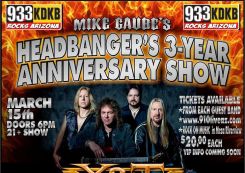 NEXT SHOW: SAT MAR. 15TH
WITH: LOADED, ROMEO'S SIN, SECTAS, BENEDICTUM and C.O.D.!!! PLUS, you never know what special guests might show up!!! Keep checking for updated info
93.3 KDKB and Mike Gaube's Headbangers 3 year anniversary show Featuring Y&T's 40th Anniversary tour!
Come join 910 Live and 93.3's own Mike Gaube as we celebrate a milestone in rock music with Y&T on their 40th Anniversary tour! Tickets are $20 bucks for an amazing night of rock. VIP package and meet and greet to be announced soon and call 910 to reserve your own private VIP Cabana for the show!
JOIN MAILING LIST
Enter Address:
UPCOMING
EVENTS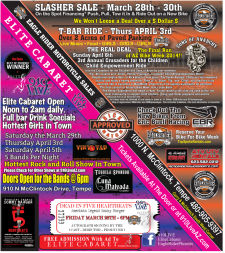 FRIDAY MAR. 28TH
Arizona Bike Week At 910 Live!
ELITE CABARET OPEN NOON TO 2AM DAILY! YOUR FAVORITE VALLEY ROCK BANDS PLAYING THE GREAT OUTDOOR VENUE! COME SEE OUR AMAZING STAGE, SLIDE INTO A CABANA WITH BOTTLE SERVICE OR COME INTO ELITE AND ENJOY OUR GORGEOUS GIRLS! BANDS AND EVENTS TO BE ANNOUNCED SOON!
DOORS 4PM $10 PRE-SALE 21+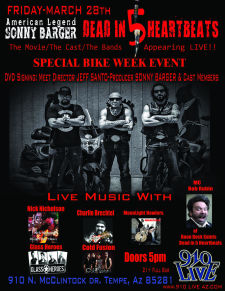 FRIDAY MAR. 28TH
DEAD IN 5 HEARTBEAT DVD SIGNING (THE MOVIE/THE CAST/THE BANDS)
COME MEET THE DIRECTOR/PRODUCER/CAST AND THE BANDS FROM THE ACCLAIMED MOVIE DEAD IN 5 HEARTBEATS
DOORS 5PM $10 PRE-SALE 21+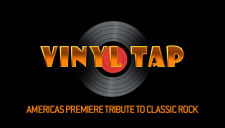 SATURDAY APR. 5TH
VTV5 FEATURING NORM SAAVEDRA
COME LISTEN TO THE BEST HARD ROCK HITS FROM ALL THE GREAT BANDS! IRON MAIDEN,DOKKEN, WHITESNAKE AND MORE! BEST PLACE IN TOWN FOR LIVE MUSIC. OUTDOOR STAGE, CABANA RENTALS, BOTTLE SERVICE AND ELITE CABARET INSIDE! MORE BANDS TO BE ANNOUNCED
DOORS 7PM 21+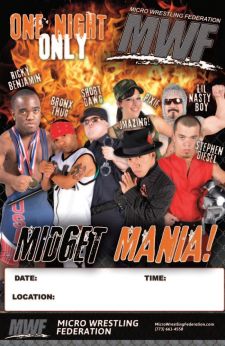 SATURDAY APR. 26TH
910 Live in conjunction with MWF presents! MICRO WRESTLING!
Micro Wrestling Federation is an action packed wrestling show from start to finish that will leave you raving! 5 ACTION PACKED MATCHES, RING ANNOUNCER, MEET AND GREET WITH THE WRESTLERS AND MAYBE SOME ACTION PACKED FIGHTS WITH SOME BEAUTIES AFTER THE WRESTLERS HAVE AT IT! THIS IS A ONE NIGHT ONLY MUST SEE EVENT!
DOORS 5PM $15 PRE-SALE 21+